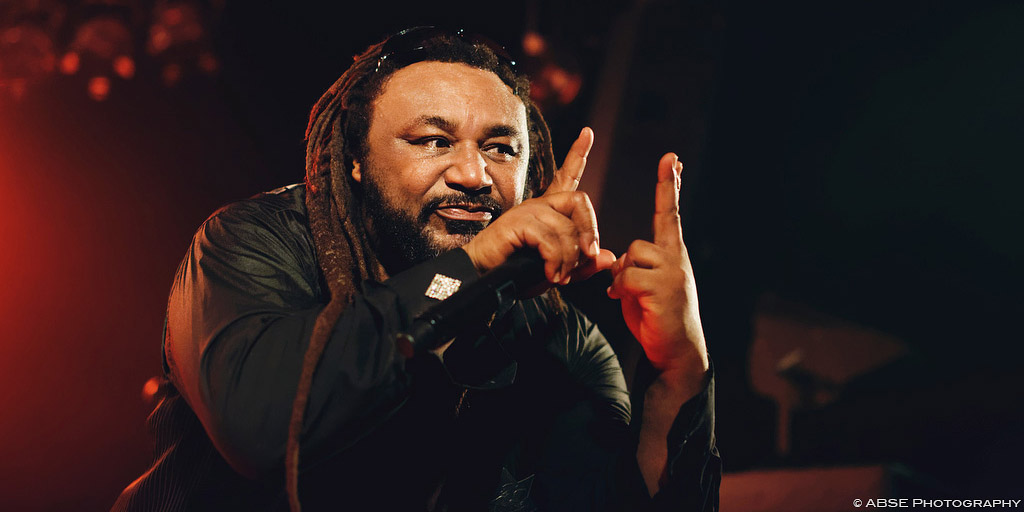 Skindred was playing at the Covent Garden Studios in Ergany France on November 4th 2014.
It is awesome to see a band like Skindred playing in a small friendly venue after seeing them in le Trabendo in Paris last hier. And as usual they set the public on fire! Benji Webbe was great on vocals as always, putting on most of the show. The stage was a tad small so it felt like Dan Pugsley on bass and Michael Fry (a.k.a. Mikey Demus) on guitars were a bit restricted in their movement. Arya Goggin on drums was looking like he had a blast this night and Dan Sturgess (a.k.a. Brixton / Sanchez) doing programming live only was grounded in his little corner.
A great show as always from the Newport based band, and if you've never heard their mix of raggae / metal, go check it out!
L'enchainement de Thunderstruk et du remix de la marche impériale annonce l'arrivée de la tête de l'affiche de la soirée. Skindred est de retour en région parisienne, cette fois dans une petite salle intimiste alors que l'année dernière ils avaient fait la tête d'affiche au Trabendo. Et c'est tant mieux pour nous, on peut comme ça profiter pleinement du show.
Pas de nouvel album depuis l'année dernière, on retrouve donc une setlist assez similaire à celle de l'année précédente, composée des plus gros hits du groupe tels que « Rat Race » ou « Babylon », même si ne sont pas nécessairement les titres que j'apprécie le plus en live. Benji a plus la pêche que l'année dernière en tous les cas, même si l'on voit qu'il a toujours les yeux aussi explosés lorsqu' il change de lunettes. On regrettera un peu qu'il ne joue plus autant avec les samples comme c'était le cas avant.
Dan Pugsley à la basse et Michael Fry (a.k.a. Mikey Demus) à la guitare sont un peu moins actifs que d'habitude mais je pense que cela est majoritairement dû au fait qu'il n'y a pas énormément de place sur la scène. Arya Goggin derrière sa batterie est quant à lui toujours aussi déchaîné et Dan Sturgess (a.k.a. Brixton / Sanchez) qui s'occupe des samples en live est coincé à l'arrière de la scène mais à l'air de bien s'éclater quand même.
Le public est bien tassé mais à l'air de s'éclater un max ! Ça baigne dans la transpiration et je suis bien content d'avoir accès à la petite fosse photographes devant car cela n'aurait vraiment pas été évident sinon avec le matos photo. Comme à son habitude Benji interagira avec le public tout au long du concert, le faisant participer au show.
Nous aurons le droit au petit remix de rappel un peu écourté cependant cette fois-ci, avec « Warning » qui clôture la soirée ! Une fois de plus ce savant mélange de reggae et de rock aura fait passer la soirée bien trop vite, il est l'heure de quitter notre petit cocon et de retourner chez nous dans le froid.
Setlist :
Intro
Thunderstruck (AC/DC)
Imperial March (Dubstep remix)
Main Act
Rat Race
Stand for Something
Doom Riff
Ninja
Cut Dem
Babylon
Bruises
Thrift Shop
Kill the Power
Trouble
Sad But True
Pressure
Nobody
Encore
Thanks to Seven and Simon for the photo pass!